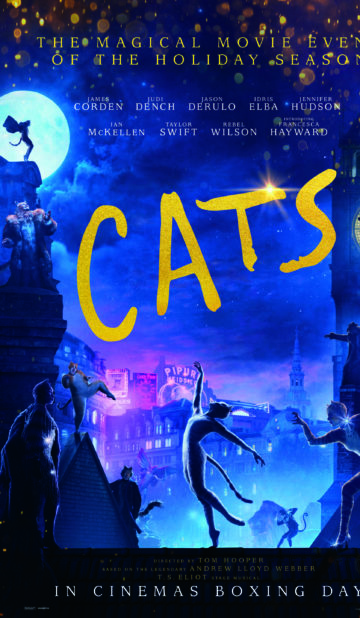 Rating tbc
01 hours 46 minutes
Synopsis
A tribe of cats called the Jellicles must decide yearly which one will ascend to the Heaviside Layer and come back to a new Jellicle life.
Featuring Lloyd Webber's iconic music and a world-class cast of dancers, the film reimagines the musical for a new generation with spectacular production design, state-of-the-art technology, and dance styles ranging from classical ballet to contemporary, hip-hop to jazz, street dance to tap.
One of the longest-running shows in West End and Broadway history, the stage musical "Cats" earned the Olivier and Evening Standard Awards for Best Musical. In 1983, the Broadway production became the recipient of seven Tony Awards, including Best Musical, and ran for an extraordinary 18 years. Since opening in London in 1981, "Cats" has continuously appeared on stage around the globe, to date having played to 81 million people in more than fifty countries and in nineteen languages. It is one of the most successful musicals of all time.