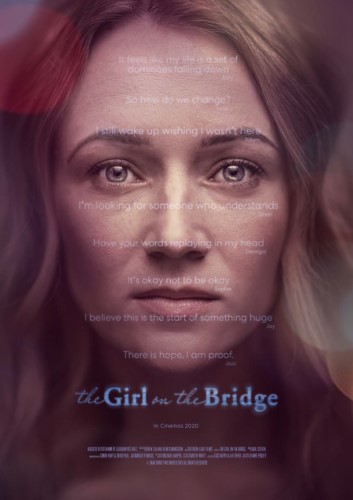 RP15 - Deals with suicide, sexual abuse themes and self-harm reference
01 hours 32 minutes
Synopsis
Mon 9 Oct
8.15pm
Hosted by STAROS Affected by Suicide Support Trust
CONTACT US to get free tickets!

THE GIRL ON THE BRIDGE is a documentary directed by award winning New Zealand filmmaker Leanne Pooley. It is a glimpse into a world few of us comprehend and a response to our collective anguish about the suicide crisis in our communities and our desire to "do something".
Twenty-two year old Jazz Thornton survived multiple suicide attempts and is now taking on a system she believes is failing her generation. After founding her own charity to support young people struggling as she once did, she's put herself through film school to learn the skills she needs to communicate.
But not everyone makes it and although Jazz has survived she's lost a lot of friends, including sixteen-year-old Jess. Jazz promised Jess she would tell her story, and The Girl On The Bridge follows her as she fulfils that promise and creates a documentary series abut losing Jess, called Jessica's Tree. Filmed over a two year period, The Girl On The Bridge follows Jazz as she deals wit her own internal battles as she creates Jessica's Tree and as she increasingly finds herself the face of the suicide epidemic unfolding around her.