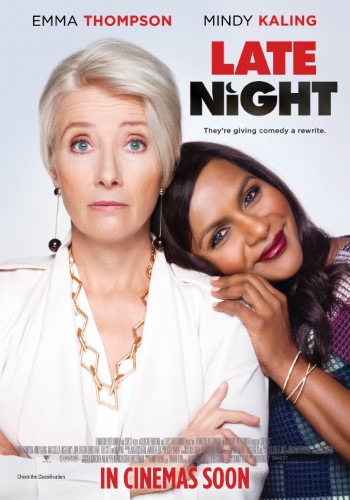 M - Offensive language, sexual references
01 hours 42 minutes
Synopsis
Katherine Newbury (Emma Thompson) is a legendary host on the late-night talk-show circuit. When she's accused of being a "woman who hates women", she hires Molly Patel (Mindy Kaling), a chemical plant efficiency expert from suburban Pennsylvania, as the first and only female on her writing staff.
But Molly might be too little too late, as the formidable Katherine also faces the reality of low ratings and a network that wants to replace her with a younger, male host. Molly, wanting to prove she's not simply a diversity hire, is determined to help Katherine by revitalizing her show and career — and possibly effect even bigger change.
"Smart, timely, and brought to life by a terrific cast, LATE NIGHT is a workplace comedy with a lot of heart – and just as many laughs" (Rotten Tomatoes)
"Thompson (…) conveys wit, intelligence and capability better than just about anyone in the movies today" (Minneapolis Star Tribune)
Thu 22 6pm: KAN Knit August Nights – Lights Up Session – SOLD OUT!