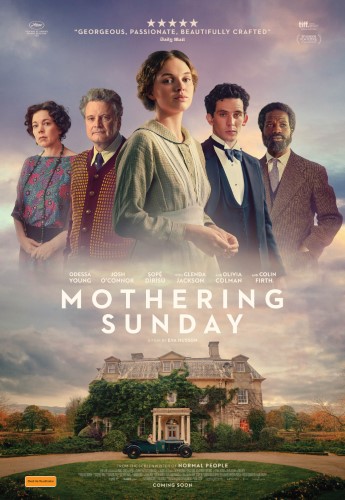 M - Sex scenes, offensive language, nudity
01 hours 44 minutes
Synopsis
The events of Graham Swift's novel take place over the course of Mother's Day in 1924.
Maid Jane Fairchild (Odessa Young) has the day off, as her employers, Mr. and Mrs. Niven (Colin Firth and Olivia Colman) are attending an event to celebrate the engagement of their neighbours' son, Paul (Josh O'Connor). Jane is an orphan, so has no mother to spend the day with — but she does have Paul, with whom she's been having a years-long secret affair.
But events that neither can foresee will change the course of Jane's life forever.
"Visually striking and beautifully shot, the acting is faultless" (Common Sense Media)
"A well-crafted gem in the rough worth pursuing and admiring" (ABC Tucson)
"On an intuitive, sensual level, Mothering Sunday is intoxicating" (RogerEbert.com)
"Shimmers with confident filmmaking and fine performances" (Los Angeles Times)
"An exquisite expression of the female gaze that sifts through the memories, reveries, and revelations of a writer" (Original Cin)