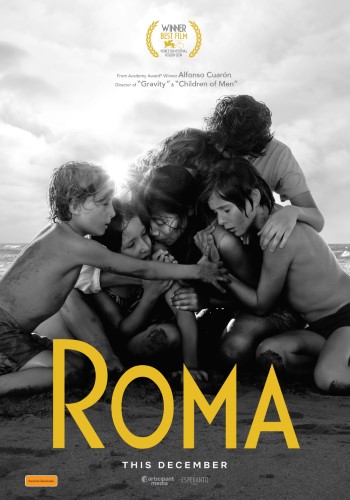 SESSION TIMES - THIS WEEK
M - Violence, nudity, offensive language, content that may disturb
02 hours 15 minutes
December 13, 2018

Spanish with English subtitles
Synopsis
++++++++ ONE WEEK ONLY ++++++++
ROMA follows a young domestic worker Cleo (Yalitza Aparicio) from Mixteco heritage descent and her co-worker Adela (Nancy García), also Mixteca, who work for a small family in the middle-class neighborhood of Roma.
Mother of four Sofia (Marina de Tavira) copes with the extended absence of her husband, Cleo faces her own devastating news that threatens to distract her from caring for Sofia's children, whom she loves as her own.
Filmed in luminous black and white, ROMA is Alfonso Cuaron's intimate, gut-wrenching and ultimately life-affirming portrait of the ways, small and large, one family maintains its balance in a time of personal, social and political strife.
★★★★★ "A richly textured masterpiece, ROMA is cinema at its purest and most human." (TimeOut)
★★★★★ "ROMA is Alfonso Cuaron's best film so far: a thrilling, engrossing and moving picture with a richly personal story to tell." (The Guardian)