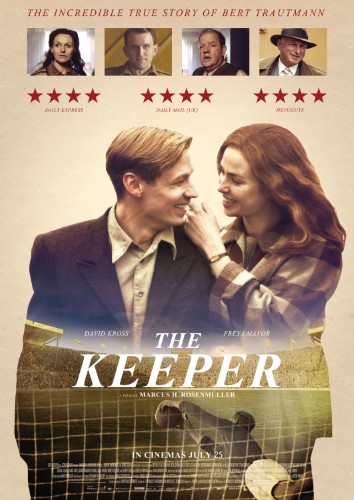 M - Violence, offensive language
01 hours 59 minutes
Synopsis
THE KEEPER tells the true love story between a young English woman and a German PoW, who together overcome prejudice, public hostility and personal tragedy.
While visiting a PoW camp near Manchester at the end of WW2, Margaret Friar (Freya Mavor), the daughter of the manager of the local football team, notices young German soldier Bert Trautmann (David Kross). Her father is so taken by Bert's prowess as a goal-keeper that he gets him out of the camp to play for his team. Margaret's and Bert's love blossoms despite resentment of the German PoWs.
Rather than going back to Germany, Bert marries Margaret and signs for Man City. His signing causes outrage to thousands of Man City fans. Support comes from an unexpected direction: Rabbi Altmann, a Man City supporter who fled the Nazis.
"An excellent tribute to one of the most beloved 'foreigners' ever to play the beautiful game in England" (stuff.co.nz)
"Heartfelt and sympathetic" (The Guardian)
"Charming and often enlightening" (Little White Lies)