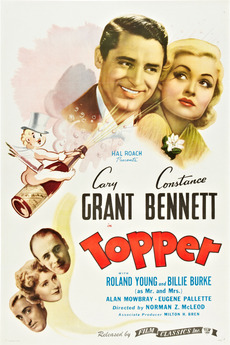 Synopsis
Join us for Winter Decodence – DECO DRESS UP REQUIRED
Witness Cary Grant in the role that pushed him into stardom in smash-hit comedy TOPPER.
One car crash on a winding forest road, and carefree and glamorous couple George (Grant) and Marion (Constance Bennett) find themselves deceased. Confined to an existence as ghosts, they need to do a good deed in order to get into heaven. Who better to haunt than their old, stuffy friend Cosmo Topper (Roland Young) who is trapped in a difficult marriage and a boring job?
By introducing Topper to a life of fun and excess, our ghostly heroes are hoping to redeem themselves.