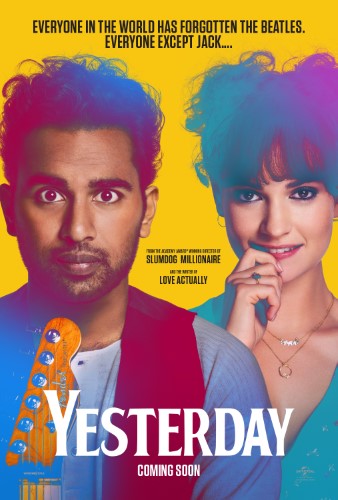 M - Offensive language, sexual references, drug references
01 hours 56 minutes
Synopsis
Yesterday, everyone knew The Beatles. Today, only Jack remembers their songs. He's about to become a very big deal. From director Danny Boyle and writer Richard Curtis comes a rock-n-roll comedy about music, dreams, friendship and love.
Jack Malik (Himesh Patel) is a struggling singer-songwriter in a tiny English seaside town whose dreams of fame are rapidly fading, despite the fierce support of his childhood best friend Ellie (Lily James). Then, after a freak bus accident during a mysterious global blackout, Jack wakes up to discover that The Beatles have never existed.
Performing songs by the greatest band in history to a world that has never heard them, Jack's fame explodes. But as his star rises, he risks losing Ellie. With the door between his old life and his new closing, Jack will need to prove that all you need is love.
★★★★ "A glowing tribute to The Beatles and their music, this is both a toe-tapping pleasure to watch and a smart, occasionally scathing look at how we get things wrong" (Empire)
"Crowd-pleasing hit (…) You'll leave the cinema with a full heart, tears in your eyes and singing Beatles songs all the way home"(Digital Spy)